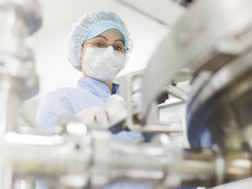 Launching a private label product is a major decision that offers companies a great opportunity for success, but it can be a risky endeavor. One way to reduce risk is to work with a private label cosmetics manufacturer.
Here are some great reasons why:
1 – Private label cosmetics manufacturers have a wide range of formulas
Clients of private label cosmetic manufacturers can choose from a large library of formulas that have been through quality testing and refinements, which allow clients to work with the manufacturer to determine the right pre-configured formula for the specific private label product.
2 – Producing cosmetics is often cheaper through a private label cosmetics manufacturer
By working with many different clients, private label manufacturers are able to scale production and offer cosmetic products at a lower price point than national brands. According to Packing Digest, private label products are typically 30 percent lower in price than national brands.
Retailers and businesses looking to expand their product lines into cosmetics without expanding operations or paying product development costs should consider outsourcing production to a private label cosmetics manufacturer.
3 – Expanding your product line into a new market can be risky
Let's say your apparel company is interested in launching a perfume line, a complementary product to your existing product line. By working with a private label cosmetics manufacturer, your business doesn't stand to face as large of a financial loss if the private label product flops in the market.  
4- Private label cosmetics manufacturers can provide faster production turnaround times
By outsourcing production to a more streamlined operation, your production cycle can be shorter and more agile. If changes need to be made, this can be done quickly as the manufacturer typically has the supplies in stock.
5 – Private label manufacturers can help your cosmetics products succeed
Manufacturers work with a wide range of clients, each of whom have unique needs and challenges when producing their private label products. With years of specialized experience serving diverse clients, manufacturers can provide crucial insights and best practices to steer clients towards success. At B&R Products Inc., we believe that our success is a reflection of our clients' success. That's why we readily share our 40 years of industry expertise with the businesses who entrust us with manufacturing their private label cosmetics and skin care products.  
GREAT REASONS TO USE A PRIVATE LABEL COSMETICS MANUFACTURER – B&R Products Inc.