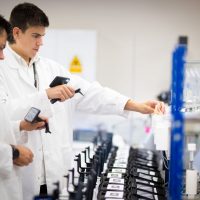 **During the process of product development, we run stability tests along with other controls to ensure the efficacy of your approved formulation.
We are committed to quality it is evident throughout every phase of product development, manufacturing and filling. Ad an FDA registered facility we continuously update knowledge relating to documented protocols, procedures and ongoing personnel training. Absolute attention to every facet of the manufacturing process is ensured through regular internal and third-party audits. Our QC/QA department is involved in every aspect of our daily operation, working closely with our staff to provide ongoing training and quality awareness.
We are equipped to satisfy requirements for QC/QA and adhere to numerous testing and procedural protocols including those noted:
Abide by protocols imposed by Federal and State agencies
Total GMP compliance
Raw material analysis and evaluation
Laboratory analysis of products
Long term stability testing**
Process and Methods Validation testing
Microbiological testing
Product/Package compatibility testing
Retains
Per established cGMP protocols and pursuant to the rules imposed by federal and state agencies, all customer approved formulated and manufactured items are kept in a climate controlled environment for a minimum of 2 years so as to ensure proper handling and trackability.

Liability Insurance
We can provide you with a copy of our liablity insurance that covers ourselves and the products that we manufacture for our clients.
Non-disclosure Agreement
At the request of our clients in the event that you have confidenctial information or a formulation that you wish us to address, we can provide you with a non disclosure agreement that protects the information of both parties.

Manufacturing Affiliations
B&R Products has been a member of several industry organizations, which has assisted in keeping our staff updated on the changing domestic and global regulatory mandates. Expert authority in the development of internationally distributed health and beauty formulations.